British GP Report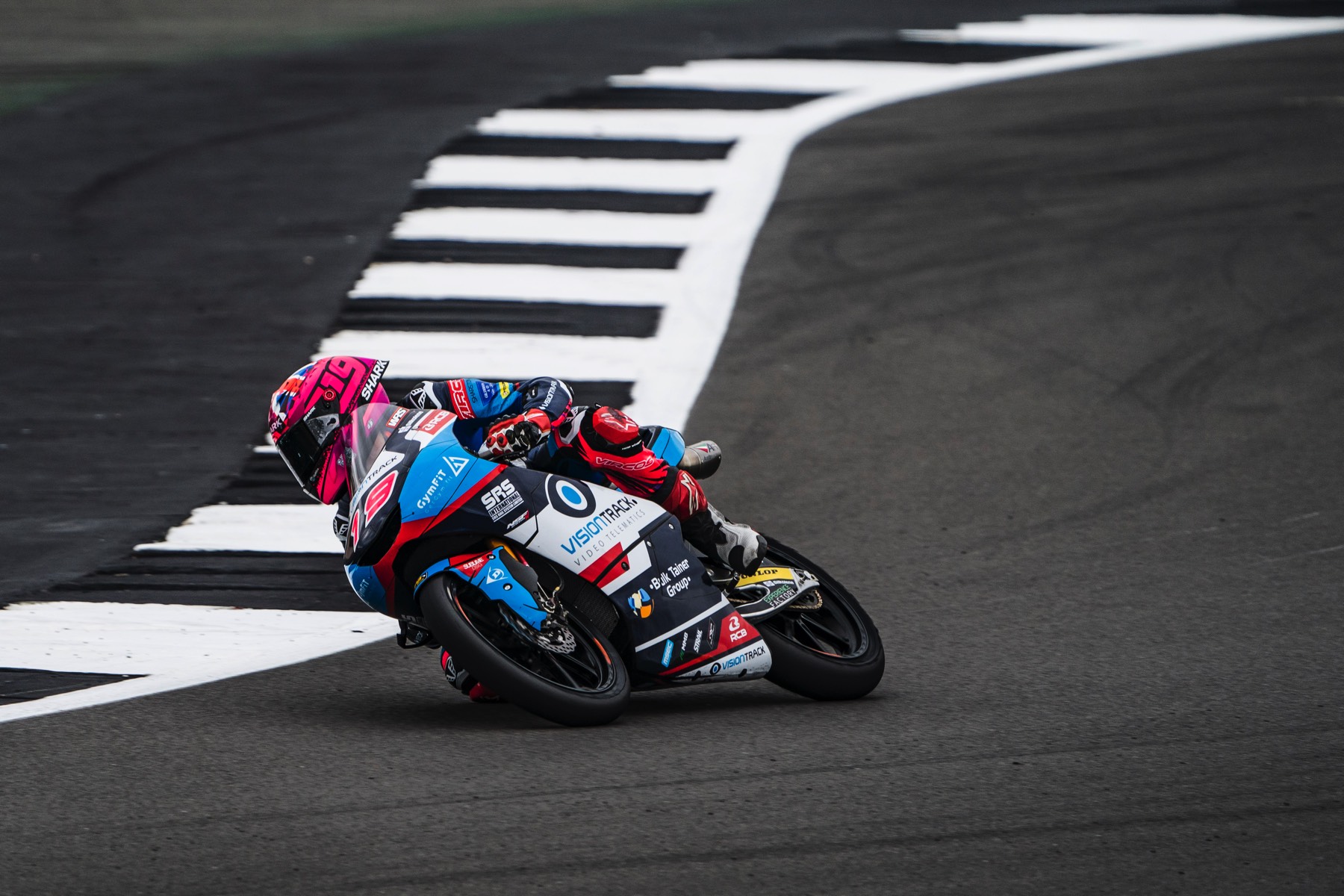 After a restful summer break, the Team were excited to be back on track. The second half of the season kicked off this weekend at Silverstone – a circuit both riders have had good results at before.
Friday was a colder August day than is typical – but dry. With this looking to be the only dry running of thew weekend – our boys got straight to work. Scott ended the day in the top 14 and in doing so booked his place directly into Qualifying 2. Josh Whatley also had good pace, and his best time put him in 19th place.
Saturday was a wash out and the wet conditions created a nervous atmosphere all the way down the paddock. Not for both the British boys though. Whatley showed great pace but was unlucky to set his fastest time under yellow flags. His second best time good enough for 24th place on the grid.
Ogden performed incredibly as he got the team back onto the front row. Another yellow flag infringement meant his pole lap was also cancelled, his second-best time put him into a well-deserved second place.
Race day was filled with adrenaline, and our boys were ready for the fight. Ogden enjoyed his front-row view, but problems on the grid meant he had to have the bike restarted in pitlane and completed the warmup lap to line up from last on the gird. He scrapped his way up from last and still finished in the lead group, in 17th place, only 1.9 seconds behind the lead.
Whatley had to take two long-lap penalties that were handed to him in Assen. With this burden, he had little chance of making the most of his home GP. Nevertheless, he had some chance to get involved in some battles and crossed the finish line in 25th position.
This weekend saw spectacular riding in front of all our fans. We celebrated the improvements that were made over the break and have made big inroads to better results. We'll see you for the next round in Austria, stronger than ever.
Josh Whatley

"A lot to be proud of after this weekend to be honest, had a good pace in the race and a great weekend overall but obviously with the long lap, there wasn't a lot I could do about it! We're in a decent way at the moment so I'm counting down the days till the next one to show the steps we have made!"
Scott Ogden

"Very good weekend but leaving a little disappointed after having a pole position laptime taken away from me and then to start at the back wasn't easy. I know how hard I had to work to come back to where I did with the engine we've got. Thanks to everyone that made these days possible"